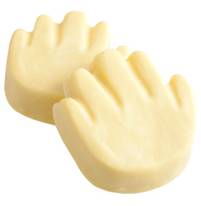 I know know what's going on, but for some reason I have the most dry hands right now, and if you've been looking at my nail polish pictures, I've no doubt that you've noticed.
Here to save the day is Lush's Tiny Hands Solid Serum.
I've only used it for a few days, but I've already noticed more moisturized and soft hands.
What makes it work is the addition of shea butter and argan oil which seem to absorb more quickly into my hands than other ingredients.  The serum also has talc in it which is a powder so it leaves your hands feeling matte even though they've been moisturized.  I've noticed that this leaves my hands less greasy than other hand creams, and it smells so good that I look forward to using it.
As usual, Lush knocks it out of the park with their scents, and this one is a blend of chamomile, vanilla, and marigold.
Available at all Lush stores!