Out on counters today!
Never behind the trend, MAC has brought sculpting to the eyes with their new eye shadow trios.  I love that they've crammed three colours into one small eye shadow pot.  You're getting a little less of each colour in the pot, but since eye shadow is virtually impossible to finish, I'm okay with that.
The colours are completely coordinated, and there's a base shade, a crease shade, and a shade that's great for either emphasizing the crease or the base of the eyelashes.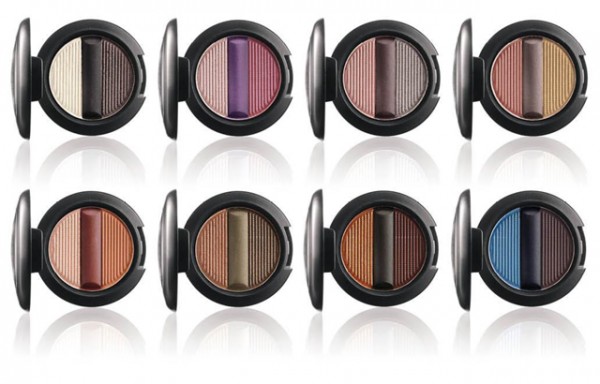 The colours are:
EBONYBLEND white frost/carbon black/dirty blue-grey (pearl/matte)
VIOLETBLEND light white-pink/deep violet/iridescent cool pink (pearl/matte)
EGGPLANTBLEND soft light pink/deep plum/dirty silver-grey (pearl/matte)
ROSÉBLEND dirty washout pink/dirty blue-plum/metallic bright gold (pearl/matte)
APRICOTBLEND champagne beige/dirty berry brown/warm coral peach (pearl/matte)
OLIVEBLEND rich rose-gold/deep olive green/ dirty olive (pearl/matte)
ESPRESSOBLEND rich penny-copper/charcoal black/warm brown (pearl/matte)
INDIGOBLEND soft, clean sky blue/deep blue-teal/deep plum (pearl/matte)
Available at MAC counters for $25 each.