MAC's next collection, to be released on February 10th, features makeup and accessories inspired by the comic book hero. As she is larger than life, some of the products are larger than life as well, including an extra large Mineralize Skinfinish compact which users of the foundation are going to love.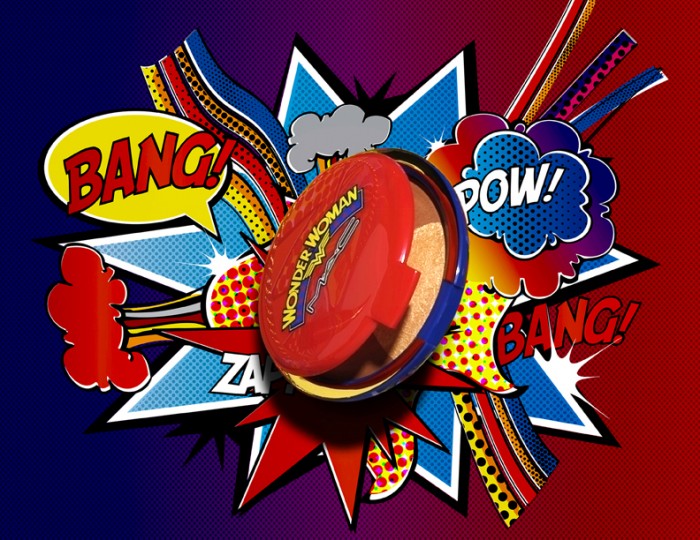 Images from the collection are coming, but first, here's a Q&A with Gordon Espinet from MAC about Spring trends and the collection:
Q: What's the color story for spring and how is Wonder Woman
the perfect beauty icon to tell it?
A: For spring we have seen that one of the biggest outstanding trends
is a very early, fresh '70s look. Think a shampoo commercial from 1972,
or a Cheryl Tiegs or Farrah Fawcett type of girl. It was this whole idea
of the "modern woman," which is a minimalist approach that produces
a maximum effect. It's a very nude face with products that are used
to sculpt, with hints of pop art colors and cool tones. And of course,
Wonder Woman is the ultimate modern woman.
Q: As a makeup artist, surely Wonder Woman—one of the most
famous (and beautiful) superheroes of all time—presents certain
beauty connotations in your mind. What is her look all about?
A: Personally, I definitely go back to Lynda Carter, but Wonder Woman
has many different incarnations! No matter what, it always stands out
to me that she is a true natural beauty. She wears makeup, but the
makeup never wears her.
Q: Each extra-large Mineralize Skinfinish compact offers both
shimmer and matte finishes side-by-side. What is the value in that?
Can you offer any application tips?
A: The fact that it's dual-sided means you can create very dynamic
looks: Use the matte product for shading and shaping, and the shiny
section creates highlights. Together they work in unison so you
achieve perfectly sculpted cheekbones, eyes, jawline, décolleté…
you can actually use this product anywhere. It's all about the
application. For example, for matte use I would recommend our
116 cheek brush to sculpt under the cheekbone: just start beneath
and brush up. The 227 looks like a giant eyeshadow brush and it's
fabulous to swipe on shimmer to create gorgeous highlights above
the cheekbones. I also love 224 brush to sculpt the eye area and
crease, and the 219, which looks like a fat crayon and which you
can use with the matte side to emphasize the eye as well.
Q: This collection includes strong, rich eye and lip colors. What's the
best way to rock a bold look even if you're not a superhero?
A: Focus on one feature. I love a rich lip, and an easy-to-wear
technique is to concentrate the color near the center of your lips and
fade as you get nearer to your lip line. That way you avoid a heavy
outline and create a bright lip that's still kissable, not threatening.
For eyes, instead of creating a rainbow of different colors, stick with
a rich shade applied near your lashline and softly blend out.