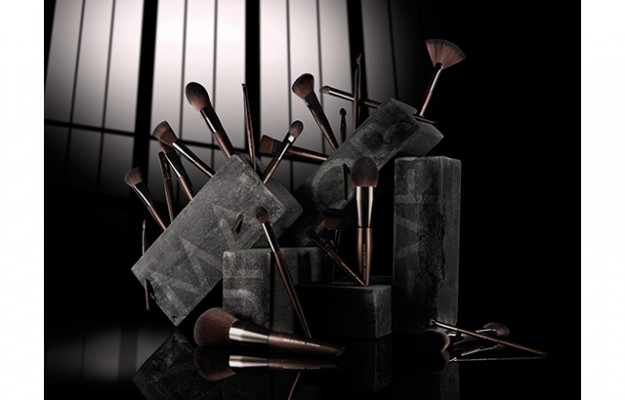 Brand new at the Make Up For Ever counter near you is a brush collection that's totally different from anything you might have seen before.  It's the Make Up For Ever Artisan Brush Collection.  It is "seventy-six cutting-edge brushes, the most expansive luxury brush collection available today". The kicker?  Each and every brush is made of synthetic fibres created specifically to mimic the application capabilities of natural fibres.  The synthetic fibers definitely feel synthetic and because they are so slippery that takes some getting used to.  What's nice about them is that they can be used with both powders and liquids, so you don't ever have to think twice before using the brush for something.
Make Up For Ever describes their brushes best when they say:
"What further differentiates this brush collection from any other is the specific synthetic fiber technology that exists in several diameters and types: wavy or straight depending on the required use. When fibers are straight, application is more generous and precise, while wavy bristles are more splayed, allowing for a lighter and freer application. A unique combination of the two fiber textures gives infinite creative possibilities. The softness and performance of each set of bristles is ensured by using tweezers and not scissors, while fibers are fixed in place with a ferrule made from a gunmetal barrel. With no detail spared, the beech wood brush handles were created with a beveled end to allow for easier product retrieval and can be used to assist in faux lash application."
While I have not had a chance to see if these brushes can indeed assist my false lashies application, I have used a couple of the brushes: a large powder brush (#128) ($52) and a medium highlighting brush (#152) ($37).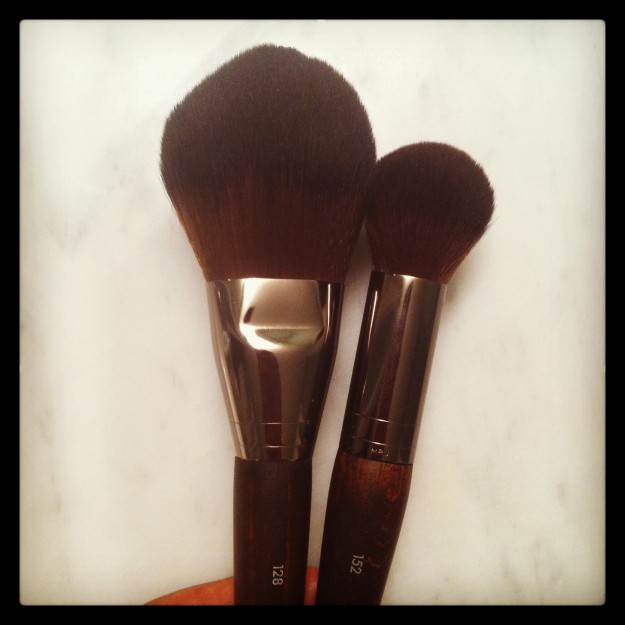 The large powder brush is made of both wavy and straight bristles so it is able to distribute powder but you're also able to have some control and apply it just to the contours you'd like.  Because it's made of synthetic fibres the brush feels super soft on the skin.  It also doesn't seem to pick up as much oil off my skin as my regular powder brush seemed to.  I think this is a good thing because the brush doesn't feel as dirty.  That said, I do miss the feel of a natural brush.
The highlighting brush is made of just wavy bristles and so lets you put a light dusting of highlighter wherever you need it.
Although I really like both the brushes I have, I'm not sold that synthetic fibres are better than natural for all kinds of makeup application.  I definitely prefer the synthetic brushes for applying my foundation and other creams, but natural hair brushes don't feel slippery the way that synthetic brushes can, and that makes the application of powder products a little easier.
My advice would be to really try playing with the brushes before you buy them to make sure that you'll be able to use them properly.  The entire brush collection is available at Make Up For Ever boutiques, and a smaller selection is available at Sephora.