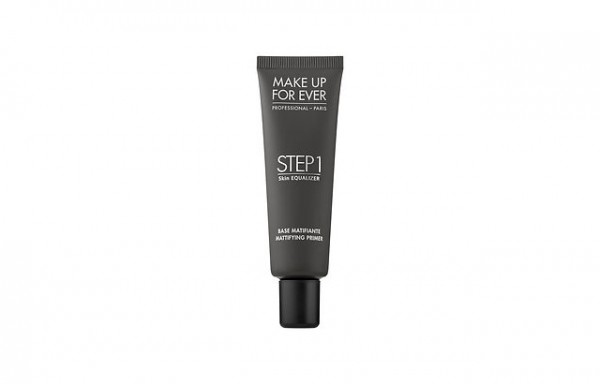 Make Up For Ever has relaunched their primers, and since I got the hydrating and the radiant yellow primer, I've been turning to them daily!
But first a bit of an explanation: I usually hate primers and don't use them.  I know they're supposed to help makeup stay on better, look better, fill in pores, lines, make skin smoother, but I can do without.  I truly feel that if you're using good skincare and a good foundation then you shouldn't need a primer… or a setting spray even.  And the other thing is that I hate putting silicones on my face, and most primers are full of them.  Yes, they are great at absorbing oil and smoothing out the surface of the skin, but my skin just cannot handle them without my pores getting totally blocked.  So there's that.
But, I'm happy to say that the Make Up For Ever Step 1 Skin Equalizers are not silicone-heavy unless you get the smoothing primer which has a real silicone slip to it.  
Because there's a range of primers that do different things, you can safely layer these and really give your skin the finish you want.  My favourite to use on most days is the hydrating primer which I use as kind of a moisturizer before I apply sunscreen on my face.  I'm finding sunscreen to be rather drying these days, but the hydrating primer is light and gives my skin just the right amount of moisture and radiance that it needs.  I would say that this is so light that it's best used as a first step.  You could use it under your regular moisturizer so that you have a boost of moisture before applying something heavier, you could use it under sunscreen like I do, or use it under foundation.  This would also be awesome to mix with a concealer or a heavier foundation to make your own tinted moisturizer.  It's light and almost water-based so it blends well with almost anything and absorbs into your skin fairly easily.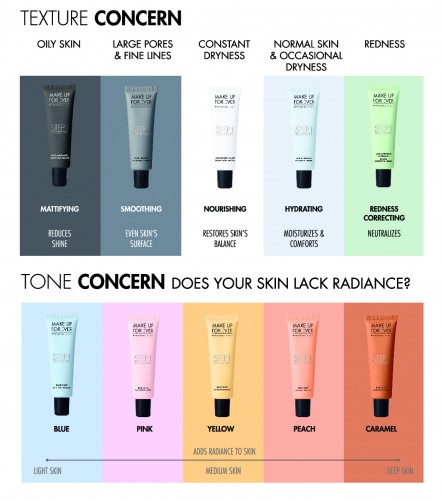 The Skin Equalizers are made in 10 formulas to tackle either texture or tone:
Texture: 
Mattifying Primer reduces shine. 
Smoothing Primer evens the skin's texture. 
Hydrating Primer restores skin's balance. 
Nourishing Primer moisturizes and comforts. 
Redness Correcting Primer neutralizes. 
Tone: 
Radiant Primer Blue adds radiance to light skin. 
Radiant Primer Pink adds radiance to light to medium skin. 
Radiant Primer Yellow adds radiance to light to medium skin. 
Radiant Primer Peach adds radiance to medium to tan skin. 
Radiant Primer Caramel adds radiance to dark skin. 
Make Up For Ever even has this handy little chart that can help you choose the right formula just for you.  
The best part about these primers is that they're truly light and absorb quickly so that you don't even feel that they're on your skin.  I think many of us stay away from primers because we don't want to put too much product on our skins, but these feel like nothing on once they absorb so they're worth using.  
And yes, they do make makeup go on more smoothly and stay on longer.  Once you've perfected your skin, foundation is easier to use, and best of all, you can use it much more sparingly making skin look naturally perfect.
Available at Sephora for $43.