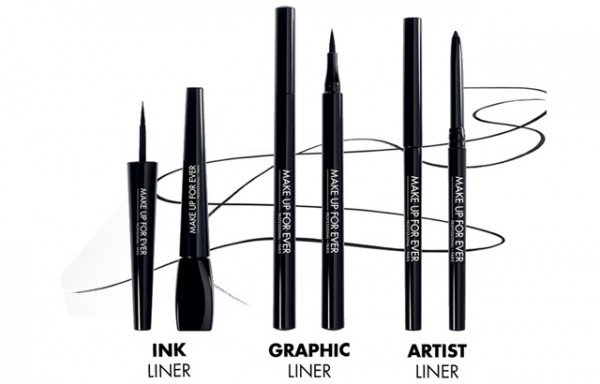 If you're looking for just the right shade of pure black – not a blue-black or a brown-black – then you need to head to the Make Up For Ever counter.  This year, they've launched two new eyeliners in the most blackest black shade available.
Available in a pen or pot, these eyeliners offer a deep black hue and a long-lasting formulation.
The Ink Liner ($27) is a matte black that comes in a pot, while the Graphic ($29) Liner is a pen that delivers a glossy black line.
I am currently using the Ink Liner because I like my liner matte, and I'm more used to using a pot these days.  I love the formula – it is indeed a deep dark black that doesn't budge once it's on your lids.  No sweat or oil can get rid of it!
However, the applicator is not as thin as I'd like – I'm used to the Revlon Colorstay Skinny Liquid Liner so I've gotten used to a very fine line that I can build up myself.
That said, this line does last longer than the Revlon one (which did used to smudge off after 8 hours if I didn't use an eyeshadow primer), so I've figured out how to make it work, and it looks amazing… and amazing for a longer period of time.  It also dries quicker than most drugstore liners I've tried, so I'm a fan of that too – less of a mess for me to wipe up when I'm in a rush in the mornings.
Check them out at Sephora this January.