…so, I have to give a shout out to Wayne Goss and his video Makeup Trends That Need to Die in 2016 because it's everything that I really think about makeup.  Yes, I love contour, highlighting, strobing, blush, concealer, lots of lipstick, etc, but all at the same time?  No way.  The video basically slams the Jaclyn Hill and Dress Your Face school of makeup which is really about using so much makeup that you don't even look like yourself anymore, and I say that despite the fact that I love both their work and watch Jaclyn Hill ALL the time, but I just would never be able to use so much highlighter on my face even for a night out.
SO, that being said, I actually have usually not been a fan of concealer, not even for the under eye area.  I think that completely masking your dark circles usually looks super fake and overly powdery (if I know you IRL, YES, YOU TOO!), and I just use foundations to do it, or HEY, I advertise the fact that I'm tired!  No biggie, I'm a mom, people usually get it and know that it's not because I've been out partying – LOL.
Buttttttt, all that being said, there's definitely nights out when I want to look brighter, more awake, and just like I'm all there, and so concealer is for those times.  If I'm going to use one, it better glide on, not settle into fine lines, and it should really look natural on the minimal makeup that I'm wearing.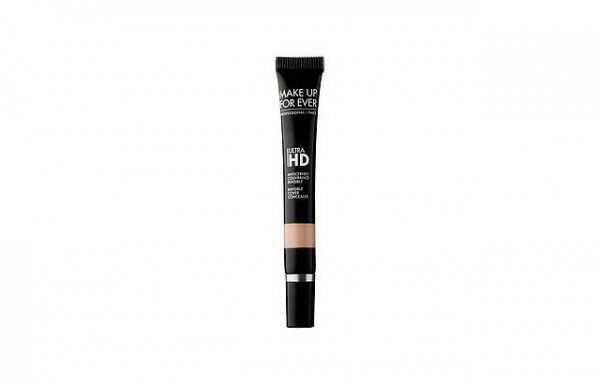 And so that's what you get with the new Make Up For Ever Ultra HD Concealer.  The concealer comes in just 10 shades which seems minimalistic for the brand, considering how many shades of foundation they have, but considering how light-weight this is, there's a chance that it's going to mix into whatever else your using.
They've divided their shades into two categories: the peaches and the yellows.  I went with a yellow-based concealer as that's what kind of skin tone I have and I wanted something that would brighten, not just neutralize dark circles.  If you have very very dark circles and need something to neutralize the darkness before using foundation or another coverage product, then definitely go with a peach-based shade in your color – it will work wonders and because you're neutralizing and not just covering up, you'll find that you'll actually need less product in that area and so you won't have to worry about it caking or settling into lines.
This concealer actually really reminds me of the Urban Decay Naked Skin Weightless Concealer which I had in a colour that matched my skin exactly, and I used almost like foundation until, uh, the glass tube broke.  Shucks, as much as I love glass packaging, I get why everyone hates on it all the time.  Make Up For Ever has their concealer in a tube, however, I'm not finding that to be much better because already my concealer has leaked all over the place and it's quite messy.  These also run on the light side, so test them in store or be ready to make a return.  Or order a couple of shades so that you're not running the risk of wearing one that's too light.   I have it in Y31 which is described as being for medium skin tones, and it's definitely brightening because it's on the light side.  I still use it, but sparingly and I can't use it all over my face because it's too light, and not really meant for that.
I know this review has been a bit rambly, but basically this is a great light concealer if you need it specifically for the under-eye area.  It won't hide everything, but you know what, that's ok.
$32 at Sephora.  Yes, pricy, but you'll only use a tiny bit at a time, I promise.