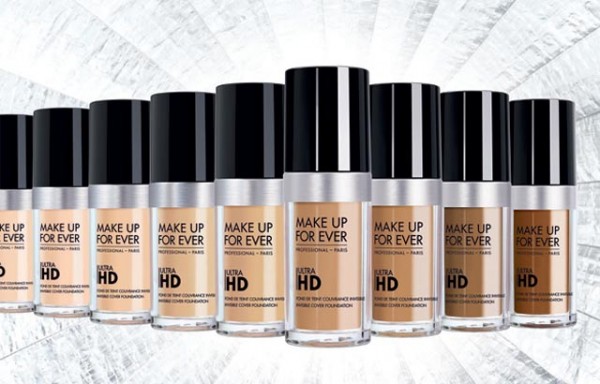 I gotta say it: although I keep trying tons of different foundations, and have two on the go right now, Make Up For Ever HD Foundation is my holy grail foundation because it has a colour that matches my skin perfectly.  It's yellow, but not too yellow, and has just the right amount of warmth for my skin tone.
They have now re-launched a new version of their HD foundation, and it's now called Ultra HD.  The foundation is now available in more colours than ever so that almost everyone can find a match for their skin tone.
I'll start off by staying that if you were a fan of the old HD foundation, you may not like this one because it's definitely different.  It's lighter, not as thick, and so the coverage isn't as full.  You can build up to medium-full coverage, but this foundation just doesn't layer like the old version did.
On the plus side, it's extremely light and does look truly like skin.  I forget I'm wearing foundation (although my skin looks great) and it sets to a satin matte finish that looks very natural.  It's not long-wearing and oily parts need to be primed, set well or will need another application of foundation.   The foundation goes on so smoothly and has just the right amount of slip to glide on to skin.  It is oil-free but not oil-absorbing so works well with a primer.  I use my finger-tips to apply because it's so fluid.  I pat on to my face, and then quickly blend all over, focussing on the centre of my face.
People with normal or dry skin will really like this foundation because it won't move throughout the day, but if you have oily skin, you may find it doesn't last that long.  It doesn't have SPF and of course, because it's Ultra HD it photographs beautifully!
I'm using this daily – but if I have an evening event, I reapply or even wash my face and do it all over again.
All said and done, because the colour is so great, I love love love this foundation.  I even think that every person of colour should try to find a match with this foundation and try it against what they normally wear.  It's that good and you may find that you've been wearing the wrong colour all along!
$50 at Sephora.  There is also a stick version of this foundation (in fewer colours) that also works very well – it's emollient and spreads evenly on the face and is more pigmented so gives more coverage.  Also $50 at Sephora stores.