If you're sick of greasy, oily foundations that promise to make your skin look good but don't deliver, then you need to try a foundation that's water-based.  Not only will it go on soft and smooth but it'll also feel light and refreshing on your skin.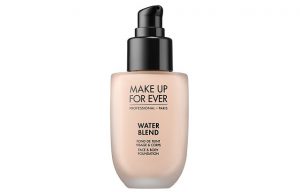 Make Up For Ever has a new foundation that delivers on this front.  They've always had their Water Blend Face & Body Foundation, but they've recently relaunched it so that it reflects their most recent colour updates.  More than any other foundation that I've tried recently, this truly has a natural finish that feels light on the skin.  It's buildable so that you can apply it quite sheerly or layer it so that it's almost full coverage – that makes it perfect for use on the body as well because you can make it look very natural – blend it in all over your skin and then dab on some more where you need more coverage. 
You can use your fingertips when applying this foundation, and it feels watery and weird until it kind of sticks into a slightly tacky finish.  I sometimes powder on top but most of the time I leave it as is because the satin finish looks like real skin.  If you want more coverage, you could use a BeautyBlender or a makeup brush to apply this and I feel like that would mean that less product ends up all over your hands, which is always a good thing. 
The foundation lasts the whole entire day.  I think that because it's water-based, it kind of doesn't melt off easily with the oils on your skin and just stays on.  That's a good thing.  The colours are so natural looking and it's easy to find one to match your skin tone – just pay attention to whether you have yellow or pink undertones and go from there.  I've found that I've gotten darker in Make Up For Ever's system over the years, and that's fine – the colour match is pretty much the best thing about the brand!
Ok, so although I love the foundation and it's really working for me, I have to admit that it's not the one I wear everyday, simply because it's not enough coverage on first pass and that's what I'm looking for.  I use my Vichy Teint Ideal foundation on a day to day basis because I can literally rub it into my skin super-quick and it's got the coverage I need. 
Check out the new foundation at Sephora stores now. 
$54.