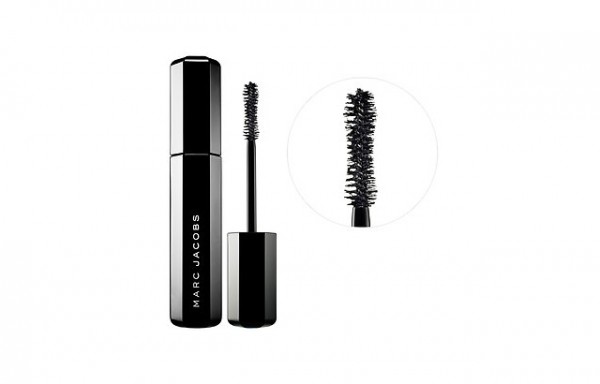 This is what you're going to be seeing at your local Sephora counter in the coming month: Marc Jacobs Beauty's new velvet Noir Major Volume Mascara.  Named after the velvet shavings Jacobs' mom used to layer with her mascara to give the look of thicker lashes, this mascara promises to give you major lashes in three strokes or less.
The short review: yes, it delivers!
The hourglass-shaped wand is nothing special nor is it that unusual – but it totally delivers on tons of volume thanks to a thick formula of gel and waxes.  The formula goes on thick and layers even thicker creating lots of volume.  One coat is enough but you'll need to comb the mascara out with the same wand or another wand to get lashes that aren't clumpy.
Unfortunately, the only downside is that there is some flaking throughout the day when you use this mascara.  There's just so much product deposited that it seems to be difficult to avoid, but the look is so dramatic that I think it's worth it.
The mascara is totally smudge-free and long-wearing.  I have oily skin, and mascaras smudge on me so easily, but this one doesn't.  Dare I say, it's holy grail material and the more I use it, the more I really like it.
Pick it up at Sephora stores for $31.