While nothing beats the finished look of blown out hair, it's air drying that's making a comeback this season.  Personally, I love the look of blow-drying my hair, but usually I do let it air dry.  Air drying is more gentle for my naturally dry and curly hair, especially since I end up washing it almost every day after I work out.  The latest air dry creams help your hair dry more quickly but they also make sure that it looks presentable, by adding some hold and shine to your hair.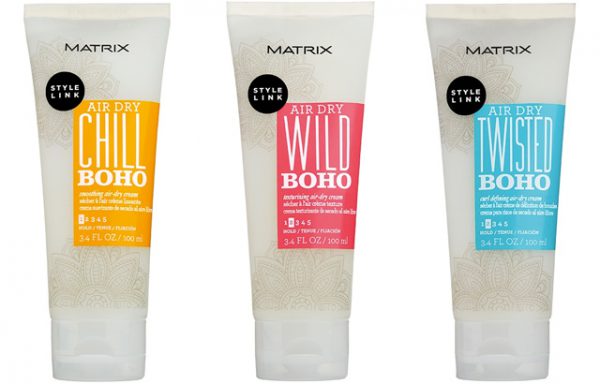 The Matrix Style Link Air Dry Boho Creams come in three different types: Twisted Boho, Chill Boho, and Wild Boho. 
The Twisted Boho and Wild Boho have the most amount of hold in them and so they're best suited for more curly hair.  Chill Boho has less hold and is perfect if you just want a finishing cream to your hair. 
Twisted Boho has very little slip to it – so if you need a detangler, it might be a better idea to put some hair serum or spray into it and then use the cream on top.  When I used the cream on its own, I found that my hair dried so quickly.  It was almost fully dry within an hour, and that makes this cream perfect for using at night time, when I want my hair to dry before I go to sleep, or in the morning when I have to be out of the house right away.  I put it through wet hair, and then twisted my curls so they would be extra curly.  I have longer hair, so I needed more of the cream – about two quarter sized blobs spread evenly on each side.  I even put it at the top so that part would stay the way I like.  It helped my part hold, and didn't weigh my hair down or make it look greasy.  It also kept frizz to a minimum.  If you put this on and then put your hair in braids, it'll help hold the look of crimped hair.  It washes out super easily too and when it's dry it feels like nothing on.
Wild Boho has some hold and a little more slip but somehow I don't like it as much as Twisted Boho.  It's the one that actually feels like nothing on the hair, and doesn't seem to do as much either.  It leaves hair a little fluffier and frizzier – great if you want more body to your hair.
Chill Boho seems to have the most slip, and I don't need a serum with it to keep the frizz away.  It holds curl or makes straight hair nice and smooth.  I even love it as a blow-drying cream because it's not too sticky, so it's safe to say that this is my favourite of all the creams.
If you like to air dry your hair, or if you're planning on doing that for the summer, then these creams are for you.
Available in salons only.