This is maybe the most under-rated foundation to come out ever!
Maybelline's Fit Me foundation has been a Youtube fan favourite for a while. It comes in colours that are skin-tone true and is just enough coverage that it can easily match your skin and blend into your neck.
That said, the finish of the original foundation was quite dewy which is great for some skin types, but not great if you have oily skin and tend to stay away from the shimmer.
But now, there's a Matte + Poreless version of the Maybelline Fit Me foundation and it's a winner.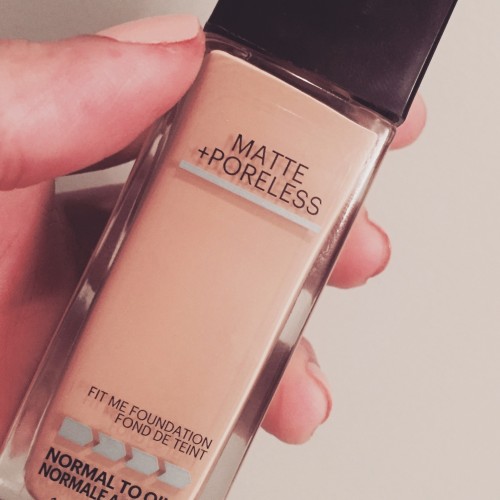 To start, the packaging is great – if pretty typical for the drugstore. It's a glass bottle that feels substantial. The only thing missing is a pump and that's a huge oversight. The only way to get the foundation out is by shaking some out on your hand or palette or brush, and there's really no way to make sure that you're getting the right amount every time. I tend to shake the bottle so that there's enough in the lid when I open it; then, I dip my foundation brush into the lid and dab the foundation on to my face. It's not my favourite way to get the foundation out, but it's pretty efficient in the morning and I don't need to wash my hands after I do my makeup.
The foundation blends so well and sets to a matte but not powdery finish. It's light to medium coverage depending on how you apply it and blend it, and you can definitely dab on more to areas that need it. It has decent lasting power especially if you apply powder and a setting spray. What I really love is that I found a colour that's a decent match for my skin tone and that the foundation looks totally natural on me. After adding contour and blush, it looks especially great.
The bottle for the foundation isn't huge, but it's been my go-to foundation for the past few weeks, and I have to say that I'm half-way through the bottle which is saying a lot. I can't remember the last time I actually finished a foundation, because I usually get bored and move on, but this one looks so good and is so easy to use that it's hard to beat.
You can get this foundation at the drugstore now – with a drugstore price ($9.99) and good matches (12 shades), it's maybe one of the best products at the drugstore right now. There's also a Fit Me! Matte + Poreless Powder available in 8 shades.