This year, Maybelline relaunches their Super Stay Full Coverage Foundation.  Ever since finishing up my bottle of the Fit Me matte foundation, I've been a fan of Maybelline foundations.  They offer them in skin-true colours and I've managed to find shades at look real on my skin.
Here's 220 Natural Beige which was too light and not warm enough for me.  I still tried it and wore it around – warmed it up with some bronzer, and added contour to add some depth to my face.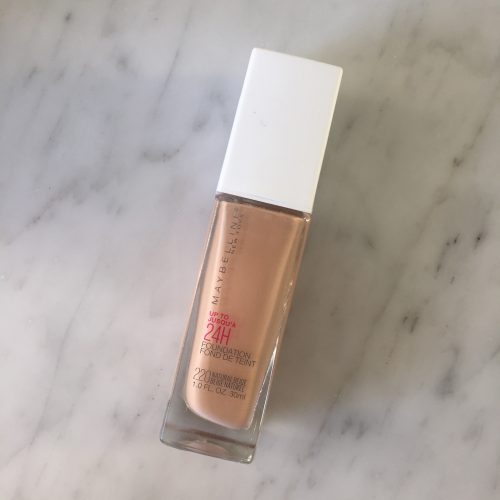 The Super Stay Full Coverage Foundation is actually medium-full coverage.  The best thing about the packaging is that it comes with a pump!  I use one pump and apply where I need most coverage, and then blend it out with a brush.  You could also use 2 pumps and use with a beauty-blender and this would sheer out your finish a bit, but you could just dab on more where you needed more coverage.  The texture is thick, almost moussy, but this applies smoothly and is very easy to blend.  It dries to a powdery matte finish that needs almost no powder.
I say almost, because although this is supposed to last a long time, if you have oily skin, then you might find that it does wear off by lunch time.  For me, that's about 6 hours, and not near the 12 mark.  Even if I'm having a day where my skin isn't too oily, I'll find that the foundation is pretty much worn off by 3 or 4pm, and my skin needs a retouch, but I'm ok with that.  As long as my eye makeup stays on, we're golden.
I think what makes this foundation a winner for me is the colours that are available.  There are natural-looking and warm options as well as a few options for dark (but not very dark) skin tones.  For the price of around $13, that's not too bad.
Have you tried Super Stay?  Are you going to try it?