We loved the Gigi x Maybelline collection and now I'm loving their new Total Temptation line – especially the eyeshadow quad.  
But first, check out the packaging.  I mean, don't the peach tones remind you of the blush tones of the Gigi collection?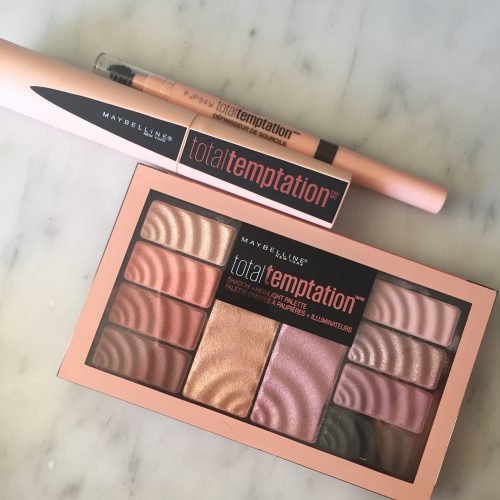 Total Temptation products shown above are an eyeshadow pencil, a mascara, and an eyeshadow palette.  I'll get right to the point and say that the eyeshadow pencil gets used daily, the mascara smudges all over the place, and the eyeshadow palette is nice.
Here are swatches of the eyeshadows!  
As you can see, the black is not very pigmented and I found that I couldn't use it as a liner.  It worked well to shade and define the crease but not as a liner, unless I wanted a diffused shadow under the eye.
I really loved all the other colours – my favourite feature of this palette is that there's a good mix of matte and shimmer shades, and the glittery purple is maybe my favourite shade of all time.  I'm finding that I'm reaching for this palette again and again, dipping my fingertips right into the glitter and gently patting it on my lids.  It's the easiest and prettiest pick me up.