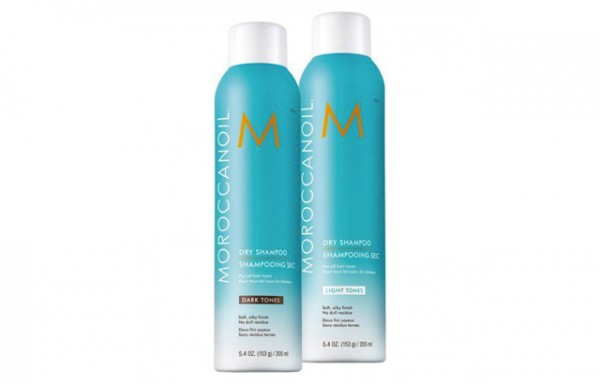 I'm on maternity leave right now, and some days at home with two kids: the one thing I'm not wasting time on?  Doing my hair… and I mean straightening it or blow-drying.  I'm finding that it's hardly worth the time to go to all that trouble when I'm going to get chalk or play-dough in it the same day, or I'm getting so hot running around that it's going to get sweaty before the end of the day.
But, my curly hair needs some help to look pretty and gets pretty tangled just a day or two after washing, so it's actually worth it to spend the time to smooth it out just a bit.
Coming to my aid is the new Moroccanoil Dry Shampoo and I'm using it a lot because it's tinted and I can quickly spray it into my hair without worrying about it leaving whitish marks in my hair and looking obvious.
Because it's from Moroccanoil the Dry Shampoo is pretty moisturizing and leave my hair looking pretty shiny instead of dry like some dry shampoos can.
There's also a version for lighter toned hair.
Available at salons only.