I've been a fan of the original Narciso Rodriguez perfume since 2006!  I still have about half my original bottle left, and I wore it so much that it's one of the scents that I can immediately identify, even on someone else.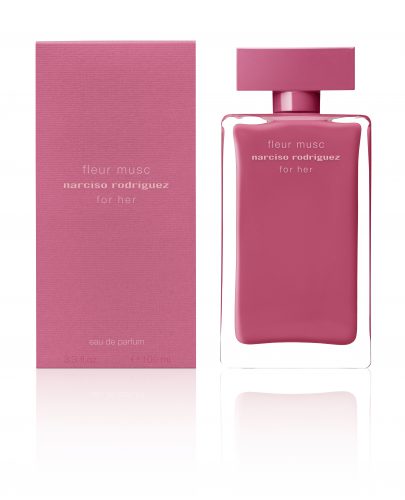 Now, there's a flanker: the Narciso Rodriguez for her fleur musc, and it's definitely my new favourite perfume.  Like all good flankers, this one smells a lot like the original which is good, because if you're buying the flanker, there's a chance that you were already a fan of the original.
Fleur Musc is definitely a touch more sweet, more feminine, more freshly floral.  The heart of the fragrance is still rose, and it's surrounded by a bit of pink peppercorn, and a base of amber and patchouli.  The drydown is soft and musky, but the initial scent is intensely floral and fresh.  I love it because it doesn't start out as lemony or acidic as some scents can be.  With this one, the initial smell as well as the heart are all great-smelling.  Each note stands out on its own and smells inviting.
The bottle for this scent is a hot pink that makes it stand out.  It's opaque ensuring that none of the juice inside gets ruined, and your first spritz will be as good as your last.
This gorgeous scent is modern, wearable, and perfect – it's appropriate to wear or to gift on Valentine's day too!
It is previewing at Hudson's Bay stores as of February 2017. Available at Shoppers
Drug Mart, Sephora, Saks, Nordstrom, Murale, Holt Renfrew stores as of April 2017.
Eau de parfum 100ml $142
Eau de parfum 50ml $112