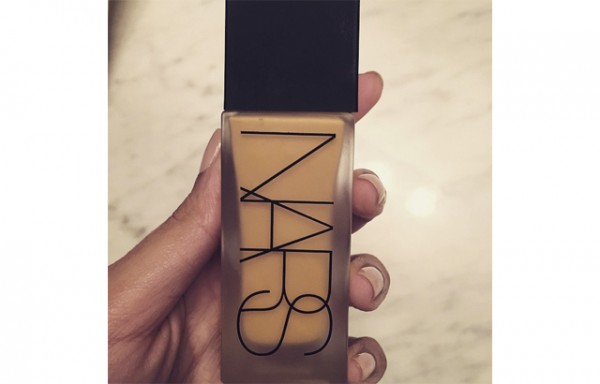 Nars has the hottest new foundation to come out this year. Last year was the year thin, silky-feeling, weightless foundations that looked and felt great but weren't for everyone because they didn't provide a lot of coverage. I know that although I loved using these foundations, I did so only when I felt my skin was amazing… or not at all.
Now, Nars has changed all that – they've come out with a foundation that looks amazing and feels completely weightless.
I got a brand new bottle of the foundation and the first few pumps were a little oily and super sheer. Obviously, I was confused. The foundation was supposed to be full-coverage with just one pump. After a lot of shaking, and pumping out a couple of more pumps of foundation, I got to where the foundation was supposed to be.
It's a super thin formula that's intensely pigmented. It literally glides on to your skin and sets to a powdery finish. The feel is a little like the Lancome Miracle Air de Teint or the Armani Maestro, but because there's so much pigment in this foundation, it's a little thicker to the feel and not quite so watery. Although this is a mostly silicone-based foundation, I found that it worked very well with my oily skin. It didn't clog my pores like silicone usually does, and I didn't have to use a primer or set it with a powder. Because it's a powdery finish, it doesn't work very well with dry skin – it will likely accentuate dry spots, and you'll be advised to moisturize before applying the foundation.
Nars suggests that you dispense one pump directly into on to your finger tips, rub them together, and then apply on your face. It's the best way, for sure because a sponge just seems to absorb the foundation and using a foundation brush means that you'll need to use 2-3 pumps of it where one would have done. Still, I don't like applying foundation with my fingers because I feel like so much product gets left on my hands, so I do prefer to use a sponge with this and just use a little more product.
The finish is matte but luminous (not shimmery) and the foundation really lasts the whole day because it's so pigmented.  That said, I would say that it's high coverage and not full coverage (like a concealer).  You can cover your whole face with a full coverage foundation, but that won't give you the natural look that this foundation is meant to give you.  When I applied the foundation with my fingers, I got high coverage that I could build where I wanted to, but still sheer out the foundation where I didn't need it so much.
Get matched at Nars counters now – the shade selection is great, although I found that Stromboli (my usual Nars colour) was a little yellow on me (I should have maybe gone up to Barcelona?) but once I blend it out to my neck, it's a good match.
$57 at Nars counters – hefty price, but it comes in what seems like a huge glass bottle and will last a long long time.