Launching August 1st, exclusively at Sephora, is Nars' Larger Than Life Lipgloss.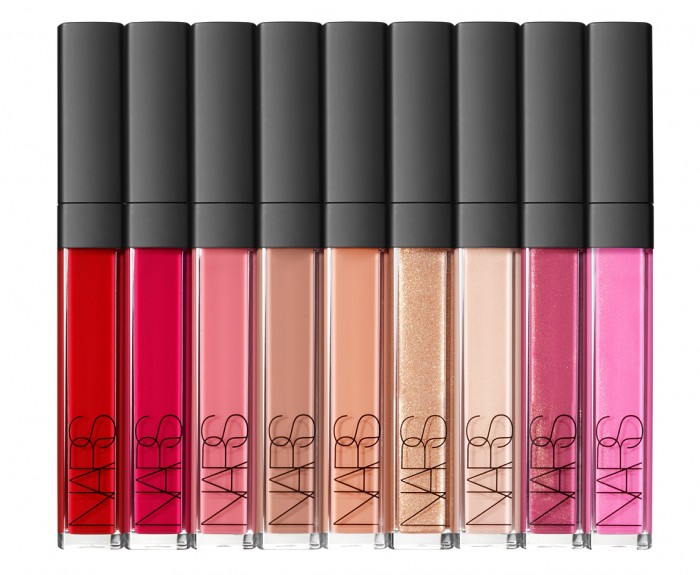 Available in 9 colours, this lipgloss is said to naturally enhance volume.  It's a big of a stickier formula than the original Nars glosses, and kind of reminds me of Lipglass.  The formula is super shiny and stays put for a long time.  I can get a whole morning's wear with this formula, and know that it's the stickiness that makes it last so long.  Lips do look more plumped – they look healthy and filled in.
The colours are seriously to die for.
They are (in the order shown above):
NORMA – cherry red
PLACE VENDÔME – strawberry pink
PIRÉE – rosy pink
TIBER – cool beige
ODALISQUE – cantaloupe
GOLD DIGGER – sparkling peach shimmer
SPRING BREAK – sheer nude pink
COMO – shimmering berry
CŒUR SUCRÉ – shimmering bright pink
And here, my lovelies, is my first lipgloss swatch. It's not perfect but there it is.
The order is: Spring break, Gold Digger, Tiber, Odalisque, Piree, Como, Coeur Sucree, Place Vendome, and Norma.
My favourite is Coeur Sucree which is such a lovely blue-based pink.  Como is also super pretty and will look like a nude on very pigmented lips.  Gold Digger (the super shimmery one) is best used on top of a matte lippie to give it some depth and shimmer.
Each is $28.