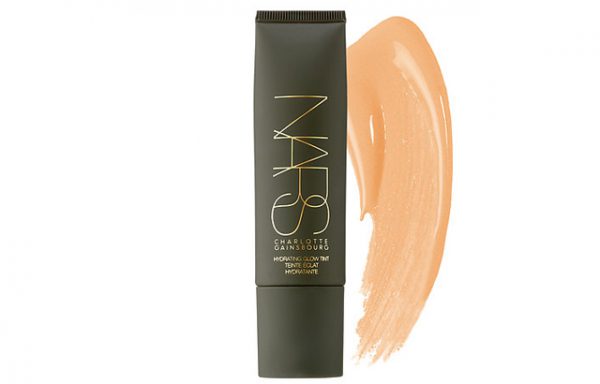 The Nars x Charlotte Gainsburg collection is amazing.  It's maybe my most favourite Nars collection to date because every piece is designed to be worn in a lived in kind of way which makes this a great collection of products to use in the summer.
Part of the collection is the Hydrating Skin Tint which comes in 4 colours: Fair, Light, Medium, and Medium-Dark.  Thankfully, I'm a medium-toned gal to a T, and so Medium in this tint matches me perfectly.
I love the Velvet Matte Skin Tint (it's been my foundation every day since I got it last spring), so I was excited to try this too.  It has the same sort of texture as the Velvet Matte Skin Tint but with a glowy finish, instead of a matte one.  Both look just like skin: one like satin-matte skin, and one like glowy moisturized skin.
I have to say, although I love them both, I have to say that the lasting power on these is not great.  They do wear off by the end of the day unless you set them with powder.  That's not so bad for the matte skin tint, but for the glowy one, it definitely takes way from the glowy look of the skin tint.  I set it if I use it before going out, but if I'm using it on the weekend, I skip the setting part and it just gives me the nicest moisturized skin.
The best part of the Hydrating Skin Tint is that it's best applied with your finger tips like moisturizer and that means that you can really blend it into your skin to make it look natural.  It has light coverage but enough to make skin look more clear and healthy.  It also photographs really well, which is another plus point for it.
The Hydrating Glow Skin Tint is available online and at Nars counters, and if you're interested in it, check it out quickly before it sells out, because it's been selling out so fast.
$45.