It's that time of year where you've been taking care to protect your skin from the sun, but perhaps you're also ready to repair some of the damage that the sun may have caused.  For that there are new NIA24 products available at Shoppers Drug Mart.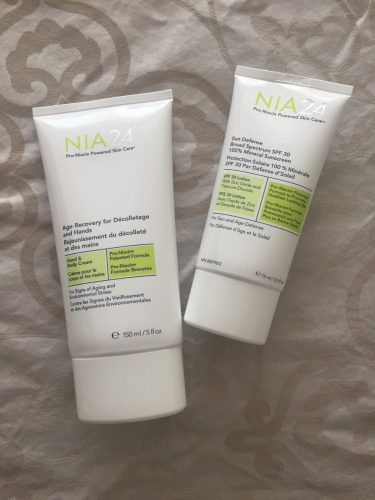 Nia24 is a line of anti-aging products.  The active ingredient in all Nia24 products is what they call Pro-Niacin, which is a form of Vitamin B3, which actually has shown to reduce hyperpigmentation and smooth out skin.   This in turn, helps skin look more refined and clear, and it can even product less oil resulting in fewer breakouts and then less scarring.
The NIA24 Age Recovery for Décolletage and Hands ($60) contains the Pro-Naicin but in a formula that's super moisturizing which is what my hands definitely need all year round.  The Pro-Niacin will help get rid of age spots, but the Squalene, Olive, and Borage oils will give lots of relief to dry skin.
There's also the Sun Defense Broad Spectrum Sunscreen SPF 30 ($54) that's out this month.  It's a mineral sunscreen, but pretty sheer so light to fair skin tones will probably be able to use it without any flashback or white cast.  I, on the other hand, found it to be bluish-white and I found that I was rubbing it in so much that it ended up giving me questionable coverage.  I always say that the best sunscreen is the one that you want to use, and you want to use lots, so I wouldn't reach for this one to use on myself simply because of the white cast.  It has a super smooth, silky finish that made it easy to wear so it the tint isn't showing up on you then this is a great option!
Available at Shoppers Drug Mart this September.