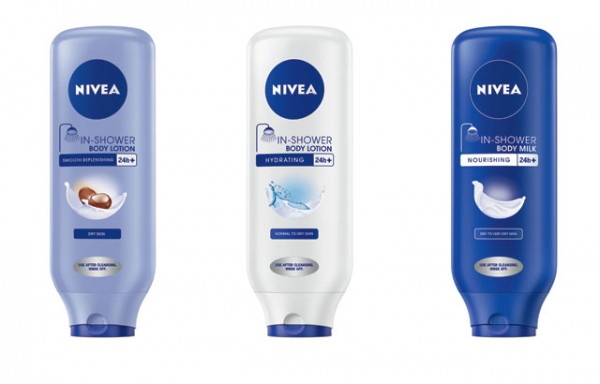 It's cold outside, hot inside, but you can't see it on my skin thanks to Nivea's new In-Shower Body Lotion.
This is absolutely the way to be moisturizing after your shower.
Let me quickly tell you how the Nivea In-Shower Body Lotion works: you smooth it on to your skin and then rinse it off.  There's a residue left behind, but that's what you want.  That's Nivea's moisturizers sealing in moisture but not being washed away.  The In-Shower Body Lotion glides on to wet skin and works with the water to emulsify and create a barrier.  There's no waiting involved: simply apply it and rinse off.
It's so easy to use, and doesn't leave me freezing while I wait for my moisturizer to sink in.  There's also no post-shower stickiness so once you dry off, you can get dressed right away!
I'm happy to say that the hydration also lasts and lasts and you'll be able to see that your skin just feels more comfortable after using this on a regular basis.
There are three varieties available: Smooth Replenishing, Hydrating, and Nourishing.  Maybe I'm drawn to the iconic Nivea blue, but the Nourishing was my favourite.
Available at drugstores now for $7.99.
Note that this does not replace any shower gel or shampoo since there's no cleansing component to this product.  It's simply meant to replace the moisturizer you might use after your shower.  Think of it like a conditioner for your body – you still need to clean it, but then you use something to put back what you might have lost.