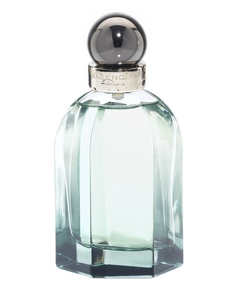 This month, Balenciaga's new perfume, L'Essence, hits counters. Walk by any department store and you'll see the posters for it, so this is definitely a scent that's got lots of marketing to go with it.
The main note in the scent is Violet Leaves, and the violet note is definitely one that's popular these days. Tom Ford's new scent is called Violet Blonde, so look for more mainstream fragrances with this note in the coming year.
This is supposed to be a stronger version than last year's Balenciaga scent, but it's not really stronger, Rather, it captures the true nature of the original scent. It is a departure that never strays far, always on the same road, really. That said, I did like the original better than this one.
The scent is a mixture of green and floral notes that are cold and refreshing. I've heard of this scent being described as being "metallic" in nature, and I totally agree. There is a metal note in it. Kind of like pressing a spoon against your nose. This is a scent that reminds me of masculine colognes, so if you like more masculine scents, this one is for you. It's masculine without the astringent quality that most colognes have. It's still long lasting and packs a punch, so I liked that. I had considerable sillage from this, and could smell it on me the whole day. Besides the violet leaves, the notes also include vetiver (which is definitely a more masculine note), and patchouli in the drydown.
Pick it up at your local Holt Renfrew or at The Bay.