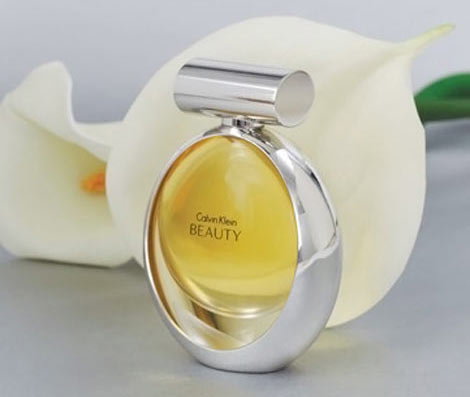 I was in high school when CK One came out, and I remember loving it but never having to buy it because everyone else already wore it and so I could smell it all day.
I now actually despise the scent, and haven't truly loved another Calvin Klein perfume.  I find Eternity too boring, and Euphoria's too much of a gourmand.
But Beauty is different and I bet nobody in high school is wearing it.
This is a scent for more sophisticated noses, and I think it's safe to say that it shows us where the trend is in perfumes.  Expect to see less fruity sweet scents and more of those that are complex.
Beauty is primarily a floral scent, and is a bit of a garden.  The notes are pretty well blended and are so smooth that I have a hard time pinning any of them down.  Though the press notes state Lily and Jasmine in the blend, I can't smell either of them in the final blend.
The initial scent does have some fruity sweet notes but they're ephemeral, and the drydown is exceptionally clean and musky.  This is a scent that adds character without overpowering.  It stays in the background but like the best backgrounds, it adds something of itself. It's an elegant scent and I wear it on the days when I want to smell fresh but not like soap.