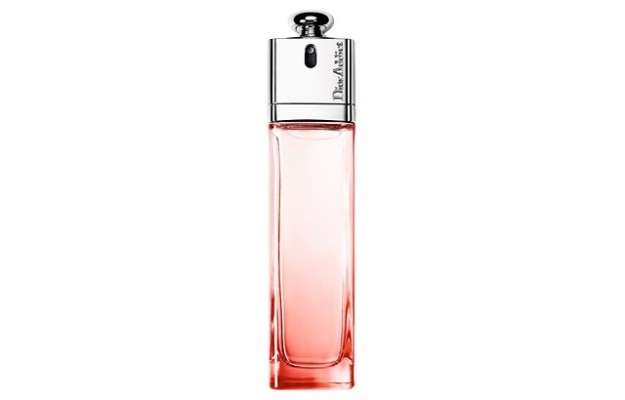 Today I'm wearing the brand new Dior Addict Eau Delice.  Truth be told, something about this fragrance reminds me of India!  Maybe it's the fact that I'm pretty sure one of my cousins religiously wore Dior Addict for a long time – Dior is a brand that people abroad love. Not only does it remind them of France, but of all good things imported.  Thus, wearing any Dior scent would be the ultimate in status.   Maybe it's the New Delhi Airport that I'm actually reminded of, because I've spend hours (yes, really) in the Duty Free there, where the Dior mists are flowing.  This is a nostalgic scent for me for sure, even if it is new.
In any case, Dior Addict Eau Delice isn't that different from the regular Dior Addict.
Notes are: cranberry, jasmine, ylang ylang and white musk.  You can definitely smell a lot of fruit initially, and the drydown has a floral and fruity blend.
The scent definitely smells fresh and summery – whether you like fruity fragrances or not, this one is sparkling and pretty instead of being a typical gourmande.
Available this July at Dior counters.  $49 for 50ml and $80 for 100ml.