If you're looking for a unique scent, then this might be one for you.  It's rose but with a twist, and when I pulled it out of the archives recently, I got asked again and again what it was…
I invested in the Le Labo Rose 31 fragrance oil – without even smelling it first.  
I love rose perfumes, and when I found out that this one was chock full of Rose but with lots of woodiness and spiciness in it, I knew that I had to try it.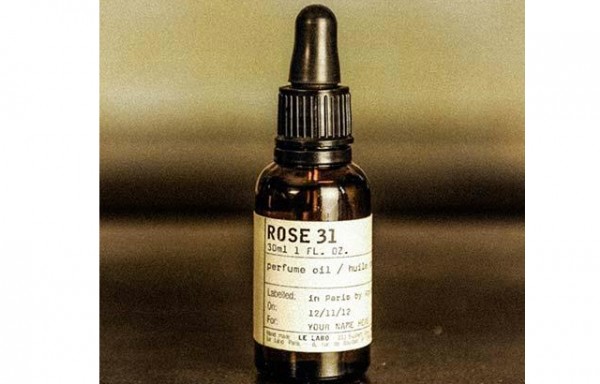 I'm getting around to write about it now because it took me a while to open the box of perfume.  Actually, the box smelled so good that I didn't need to open it… I could already smell the Rose 31, and now that the fragrance oil is unboxed, I have the box sitting on my desk so that I can smell the heady perfume when I sit down to do my work.
Rose 31 is a grown-up rose perfume.  It has tons of cumin in it which I can sometimes smell and sometimes not.  I find that when my skin is warmer, I can smell the cumin, and when my skin is cool to the touch I can't.  It has earthy undertones with some oud and vetiver mixed in.  I love vetiver (a grass from India and Africa) because it smells totally fresh and clean, and that's now a requirement for all my scents. 
I opted for the Rose 31 fragrance oil instead of the spray version of the perfume because I wanted something that would blend into my skin and just warm up and work with its chemistry.  It's nice, but I have to admit that I miss the spray because I love spritzing my clothes and hair with perfume and I can't do that anymore.  That means that this scent maybe isn't getting as much wear as it should, but I do still reach for it when I'm making a conscious effort to get ready, rather than just grabbing whatever is in reach. 
Le Labo has been acquired by the Estee Lauder company so it might be more readily available in the near future, but I bought mine before the acquisition, and so purchased it online from the Le Labo website.  
Oh, and if you stay at a Fairmont hotel ever, know that their bath products are all in the Le Labo Rose 31 scent.  This includes hand soap, body lotion and body wash.  Stock up if you can!