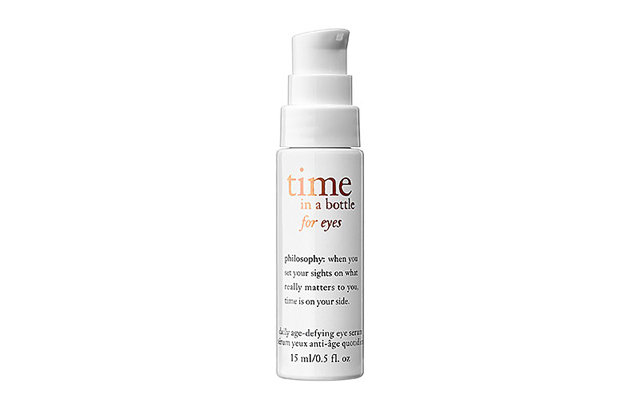 Truth: I'm not much of an eye cream person, and it's really too bad because when people find out that I "know" beauty, they always ask me for a good eye cream.  I just really don't have dry skin under my eyes, and I realized a long time ago that the only remedy for bad under-eyes is to drink tons of water, get lots of sleep, exercise, and eat your veggies.  Most eye creams are too creamy for me, and I don't love the idea of a product that's exclusively for my eyes.
But serums?  Serums I can get behind.
Time in a Bottle for Eyes is an eye serum.
The entire Time in a Bottle for Eyes is based around the using vitamin C to brighten skin, and this eye serum is no different.  It is light and hydrating but over time it does brighten skin.
Will it get rid of dark eye circles?  NO!  If you've tried all the above, then it's probably just genetics, and you – like me – can learn to love them.
But this serum will brighten skin in that it can gradually fade dark spots and sun damage revealing an overall brighter surface.
$65 at Sephora or TheBay.