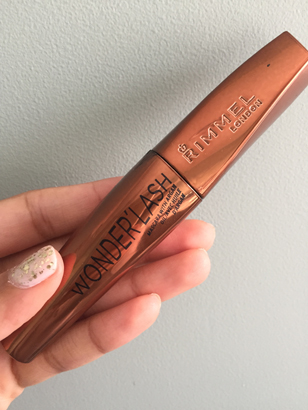 So you may have read that I didn't have success with CoverGirl's latest mascara, so I've had to set my sights on something different, and the mascara that I've been trying out is Rimmel's new Wonder'Lash mascara.  Apparently it contains argan oil so that it nourishes lashes as you wear it.
Now, I doubt that there's a ton of argan oil in the mascara, and especially that there's enough to make any real difference in your lashes.  The only thing that really can help lashes grow is Latisse, that's what I've found, and I've also seen that the mere act of applying and then removing mascara, really does a number on your lashes.
But, I love mascara and had to try this new one.
This one also has a long and slightly spiky plastic brush that applies the mascara.  I love these brushes because they tend not to get mascara on my eyelids, and I find them easier to manoeuvre.  They also separate lashes as you add more coats of mascara so you get volume and definition.
I've been using this mascara over the past week and I find that I really like it.  It lasts the whole entire day, and there's no flaking or smudging.  The mascara does dry a little plastic-y and shiny, and that might not be something you want if you normally like soft and feather-like lashes, but they do look amazing and so this mascara is a winner for me.
$8.49 in drugstores now.