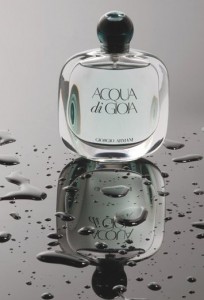 This summer, I was lucky enough to attend an information seminar for retail professionals about Armani's new scent: Acqua di Gioia.  There's no doubt in my mind that although the name of this perfume means "water of joy", the name was meant to evoke Armani's best-seller Aqua di Gio.
Acqua di Gioia is supposedly based on the scent of fresh water, which incidentally, has no smell.  Thus, I assume that what they wanted was a fresh feminine fragrance.
Notes presented to us were of Mint, Water Jasmine (which I'm sure doesn't exist, but this is the first time this smell molecule has ever been used), and Brown Sugar.  The combination of the mint and jasmine is amazing.  The mint is fresh and efferevescent and added to the water jasmine it really adds some coolness to the scent.
The drydown of brown sugar is pleasant at first and has amazing tenacity.  This is what you're going to be smelling for most of the time that you're wearing the scent, and I found that the longer I wore the scent, the sweeter the note got until it was so that I couldn't stand the scent any longer.  I'm not a fan of gourmande type scents, and though this doesn't start off that way, it does end up being an uber-sweet gourmande of the Pink Sugar variety.
This scent is available as an Eau de Parfum, and I am hoping that they release it as a cologne one day so that the brown sugar is almost gone or not there at all.
The bottle, I have to say, is beautiful.  It's shaped as a drop of water and transparent.
The scent is available at all counters this month.