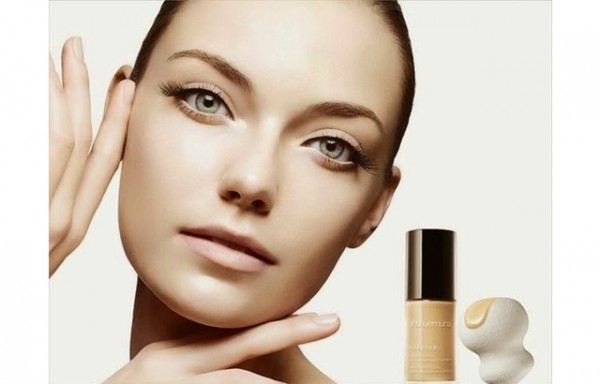 Shu Uemura is known for their cleansing oils – the huge bottles are saviours when it comes to removing makeup, and I use my cleansing oil daily.
The luxury brand has even gone on to incorporate oils into some of their other products (hair, for example), and now they've gone on to incorporate it into their foundation as well.
Their  brand new Lightbulb foundation offers medium/heavy coverage and has oils in it to give a radiant look.  Now, I was skeptical of using this foundation because I already have oily skin, and although I like using oil to cleanse it, I didn't want oil sitting on top of my skin all day.
I have actually found that although the foundation is moisturizing, it's not greasy.  Because I don't need a full-coverage foundation, I've been using the accompanying "Lightbulb sponge" that comes with the foundation and to sheer out the foundation I've been wetting the sponge instead of using it dry.  I simply run the sponge under water, squeeze out the excess, and then dab the large flat site of the sponge into the foundation and stipple it on my face.  The effect is that I get some of the glowy look of the foundation, but that I can also control the coverage a little bit better.  I finish with powder, which of course, takes away all the extra glow.
This foundation is definitely amazing if you have dry skin and want to add some luminosity to it.  It's also best for those who want medium coverage.
The foundation is $66 and comes with its own application sponge.  You could also use a brush to apply this foundation and I found that look to be quite heavy.  It's also fairly easy to blend on with the fingertips.  You can get it online and use Shu Uemura's shade finder tool to find the right foundation match.