This is the 5000th post on CanadianBeauty.com!!!  I can't believe it!  Thanks for coming along on this ride with me!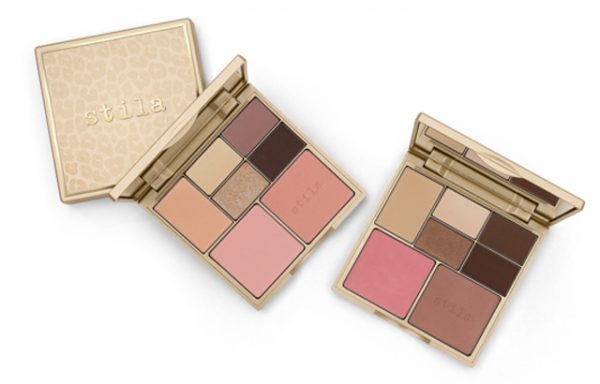 Yes, I am loving these large square Stila palettes, and joining my Correct and Perfect palette is the Perfect Me Perfect Hue Eye and Cheek palette in light/medium.  Both palettes are good quality (plastic with a tightly snapping lid) and have a huge mirror inside.  Most days, I do my makeup holding the mirror near a window, so these have basically become essentials!  
I love the Perfect Me Perfect Hue palette because it's a blend of mostly matte shades – there's just one glitzy shimmer shadow in the whole bunch which is really reflective of where eye makeup has come to.  We've done lots of shimmer and glitter, but people are realizing how much you can do with just matte shadows – they're more forgiving to eye wrinkles and are perfect for use in the crease because they're less prone to creasing since they're on the dry side.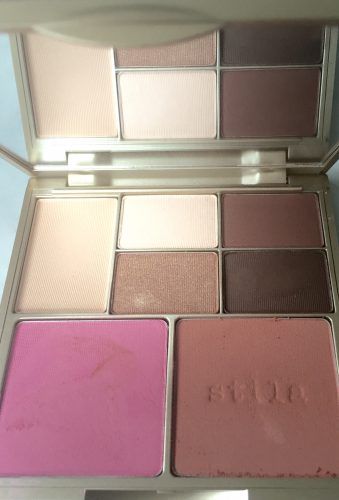 This palette has two matte blushes which are also perfect because I think many of us are done with blushes that have shimmer in them.  They don't look at all natural (if that's the look you're going for) and with the strobing craze in full swing, many of use have a plethora of highlighting products at our fingertips anyways so we can use those to add shimmer if and when we want.  My palette has a bright pink blush and a neutral rose shade as well.  The bright pink is surprisingly easy to wear – Stila pigments are sheer enough that the colours work with your skin tones instead of covering them up – thus, the warmth of my skin shows through this blush colour to create a shade that works for me.  
The base shade in the eyeshadow is the largest pan which makes sense because it's the easiest one to wear so may get used lots.  The highlight shade (the smaller light colour) is a satin finish so it gives a natural highlight instead of a frosty finish.  My favourite is the shimmer shade, and I love the copper brown colour in this palette.  It gives just the right about of ooph and is easy to wear with any makeup look.
I actually found that I could have gone for the medium/tanpalette instead of the light/medium, and when you're looking at these, you may find that more than one palette would work with your colouring.  The final decision for me was based on the blush shades – I find that I gravitate towards pink blushes and I preferred the colours in the light/medium palette. 
Available at Shoppers Drug Mart, Murale, beautyBOUTIQUE.ca, Sephora and Sephora.ca for $51.