When I saw the new Teeez cosmetics summer packaging, I knew that I just had to try the cutest products I've seen in a while.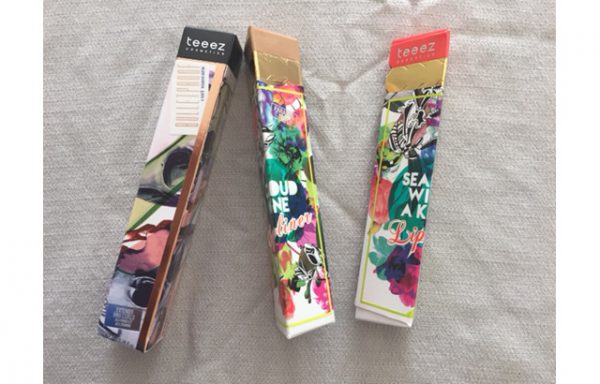 Teeez Cosmetics is a European brand that you can get atThe Bay. I have here the Bulletproof mascara, which is volumizing, the Sealed with a Kiss Lipduo, and the Cloud Nine Eyeliner.  All the products are actually amazing, and I'm kicking myself for not trying this brand sooner.
Let's start with the Bulletproof mascara  in Volumizing($32).  This mascara has a wand that just grabs on to your lashes and swipes non-clumpy, smooth mascara on top of them.  You can layer and layer it to keep adding volume, and the best part: it doesn't smudge at all during the day even if it's really hot and humid outside!  I wear this with sunscreen, skin oil, whatever I want, and it just stays put!
Next, I'm loving the Sealed with a Kiss Lipduo ($28).  This duo has a matte lipstick on one side and a gloss on the other side.  The idea is that you can wear the colour matte or glossy depending on your mood.  I'm always in a matte mood, so I start with the lipstick, but when I'm reapplying, I go with the gloss because it's more fool-proof and I don't need a mirror to apply it.
Finally, there's the Cloud Nine Eyeliner ($24) which comes in lots of metallic colours as well as black.  It has a slim brush which makes it really easy to apply.  The wet formula sets perfectly for a long-lasting finish that doesn't smudge or wear off.  You can even use these as eyeshadows but as a liner they work great for adding a pop of colour to the eye area without a lot of work.
We all love nice packaging and it's not difficult to spend a lot of money without getting a lot in return, but with Teeez cosmetics, you also get nice formulas in on-trend quirky products.  Check them out at The Bay.