If you haven't been into The Body Shop to check these out, then here's a picture…. don't they look lovely?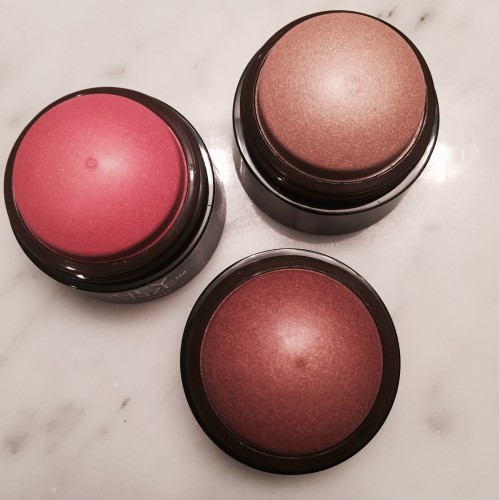 These are The Body Shop Highlighting Domes, which comes in three new colours this year: bronze, coral, and champagne.  I'm sure you can tell just by looking at them that they're super shimmery and yes, they work better as highlighters than blushes… or think of the coral and bronze one as highlighting blushes.  I mean, if you wear Nars Orgasm blush then the coral one isn't really far off from that.
The colour payoff for each of these is really good, and I love to dab them on to my cheeks directly from the dome and then pat in with my fingertips.  I don't use the champagne one as much, because I find that after using either the coral or the bronze I don't really need more shimmer but it's a nice option to wear if you're not a fan of blush.
A final warning: these are super shimmery and some times glittery, but they look so nice that I do find myself reaching for them as a quick pick-me-up before going out.  They have a velvety finish and great lasting power, so they're perfect for using during the summer.  These highlighting domes also work best on foundation-free skin which makes them a good option for the summer time, but they do work on skin that has a base on it already but you have to apply with a little more caution.
They're a great option for easy cottage-going makeup.
$16 at The Body Shop stores now.