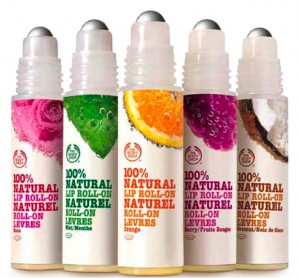 This August, the Body Shop takes their lip balms to the next level.  They have come out with a lip balm that's 100% natural and rolls on so that you don't have to get your fingers in the mix.
The lip balms are made from natural oils and waxes, including Sunflower Seed Oil, Sunflower Wax, Sweet Almond Oil, Avocado Oil, and Jojoba Oil.
These do actually moisturize very well and leave a soft sheen on the lips rather than something overly greasy.  I like that they also taste good – not waxy at all, but just mildly sweet.
The flavours available are Orange, Rose, Coconut, Berry, and Mint.  Each is lovely in its own way, but I'm a fan of the Coconut.
Each is just $5.