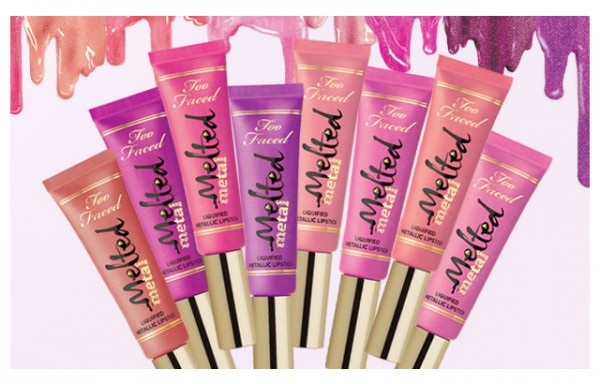 Too Faced knocked it out of the park when they invented their liquid lipsticks.  Offering super pigmented colour and decent staying power, these lipsticks are great for those of us who want full coverage glosses but with the staying power of a lipstick.
Now there's Melted Metal, a metallic version of the original Melted.
The finish of these is very much like the metallic lipsticks of the '90s, which is great if you want a look that's 2-dimensional. Each and every colour is super bright and has shimmer in it that comes out more when the lipstick dries on the lips.  By no means is this a long-wear product.  Just like regular lipstick, this will wear off as you eat and drink, but because it's in a squeeze tube with a soft applicator tip, it applies more easily than regular lipstick.
Because the colours are bright and the finish is matte, you'll need well exfoliated, hydrated lips before you apply this and then your lips will look fantastic.
$25 each at Sephora.  Available in eight super bright gorgeous colours.