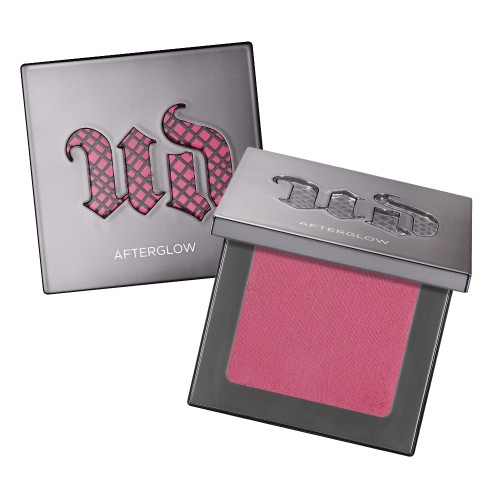 This summer, Urban Decay launched the Afterglow Blush.  With a lasting power of 8 hours, these blushes are actually a surprise from Urban Decay.  Normally, the brand is known for their super-pigmented fun-coloured eyeshadows, and products that offer a twist on the usual in innovative formulas.  The blushes, on the other hand, are not overly-pigmented and are pretty basic as far as blush goes.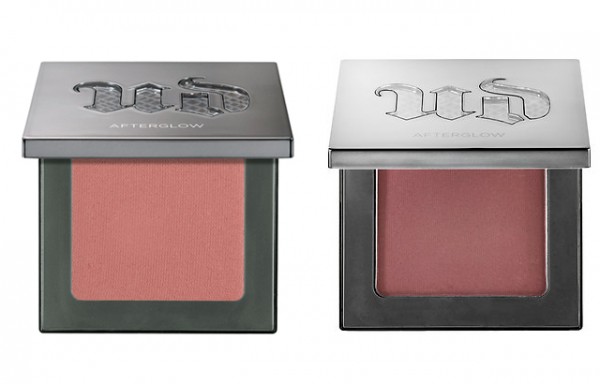 There are lots of colours offered: my favourite being Fetish (a natural pink) and Rapture (shimmery mauve).  The colours are soft and easy to blend which makes them look super natural.  You can build up the colour, but it takes some work, but that means that these blushes are essentially fool-proof.  You literally can't overdo them because the colours are so blendable, silky, and smooth.
The blushes use the same technology as Urban Decay's Naked powder foundation, which is also exceptionally airy and silky.  The foundation and the blushes go on as powders but are virtually undetectable on the skin letting them provide coverage while still look natural.
The more bright colours are more pigmented and offer more coverage, and they do so without sacrificing on the silkiness of the formula, which means that you can still use them without worrying about not being able to blend the pigmented into your skin.
The blushes have a bit of luminosity to them, and even the shimmery colours are not actually shimmery – they just offer a bit of sheen.
I think one of the ways that these fit into the Urban Decay lineup is that you really don't need a lot of colour on your eyelids and your cheeks, and these blushes offer you one way to tone it down a notch.  They are perfect for those people who are scared of wearing blush because it might look fake or unnatural.  You can make these look so natural because they are so blendable.
Pick them up at Sephora stores for $26.