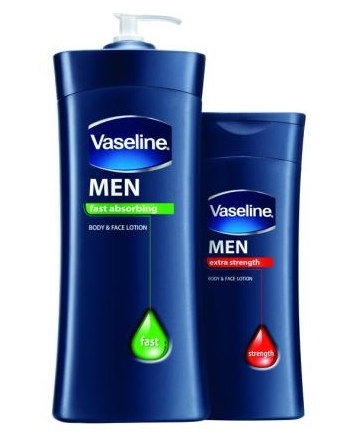 Vaseline has launched a new line called MEN, and I think that it's about time that men got their own lotion!
This line, in particular, is really smart because it really is designed for men.
For one, both the lotions are for the body AND face, which makes so much sense because all the men I know just rub lotions wherever they feel dry.  I am tired of my La Mer hand cream being used on the hands, and then the face, and even lips!  I like that now men can have their own lotion that they can use anywhere and everywhere.
The lotions are also fast-absorbing which keeps impatient men (aka all men) in mind.  Each lotion literally absorbs in 15 to 30 seconds which matches the attention span of most men.
The only thing that I didn't like about this lotion is that it smells too manly.  It smells like men's deodorant which isn't how any man wants his hands to smell.  Even the men that tried the lotions didn't like this scent, so I hope that it eventually gets toned down or changed.
Vaseline MEN comes in a regular and extra strength version.  The 600 mL pump is about $9.99 and the 325 mL bottle is $6.99 so even the cheapest men in your life will be able to afford this.
Pick it up at drugstores everywhere.