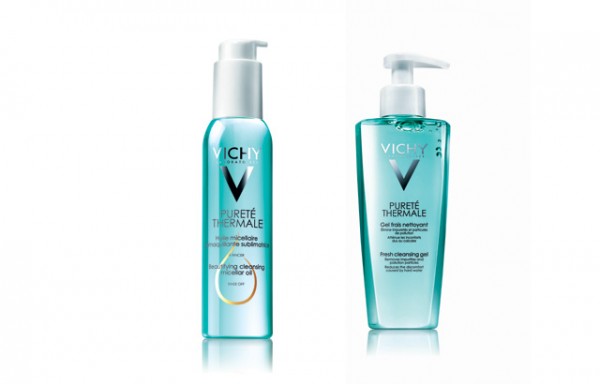 The great thing about cleansers for sensitive skin is that really, they're perfect for all kinds of skin.  That's why I love the new Vichy Purete Thermale cleaners.  There's a new cleansing oil and a new foaming cleansers, and the two together are a match made in heaven.  The cleansing oil loosens touch makeup and then emulsifies with water to wash it off.  The foaming gel gets rid of any residue from the oil and also helps wash away anything the oil might have missed.  The two leave you with super clean, yet comfortable skin.  There's no stripping but no oiliness, and no makeup remover residue.
The cleansing oil is a must to this routine.  Not only does it take away makeup without drying out the skin, it also mixes with oil on the skin to get rid of that – a must in the summer time, when skin seems to be prone to oiliness!
Pick up both at Shoppers Drug Mart and other drug stores and mass merchandisers.  $19.95 each.