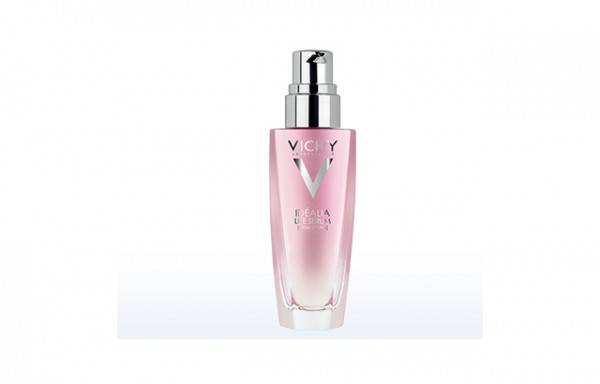 My post-vacay skincare routine has needed a bit of help – my skin is more dry than usual, slightly flaky in some places, and just needs hydration.
I tried Vichy's Idealia Life Serum on my hand, and the smooth emollient cream that melted into my skin and then absorbed so quickly into it made me want to try it on my face right away.
Idealia is pretty great as a light hydrating serum that also works dual purpose as a skin enhancer.
It has a touch of shimmer in it and makes your face look instantly glowy and refreshed. It's hydrating but not oily, and it's not full of silicone either. I apply it on my skin after my toner and before my makeup and find that it's works great under my foundation. Some of the shine does come through, and I'm okay with that, and many days I'm tempted to just use this on its own and skip foundation all together – that's how good my skin looks with this.
Skin perfectors are a dime a dozen at the drugstore these days, but the reason that Idealia works for me is that it's hydrating and not just full of silicones with typically make me break out. The texture is truly unique, while the effect is that of a nice primer.
$59 at drugstores now.