Wearing makeup in the sun is a pain – there's always sunscreen to layer with it, and on top of that it seems that skin usually gets oilier, especially in the presence of humidity and heat.  With that can come breakouts which make layering any kind of face makeup on top a real pain.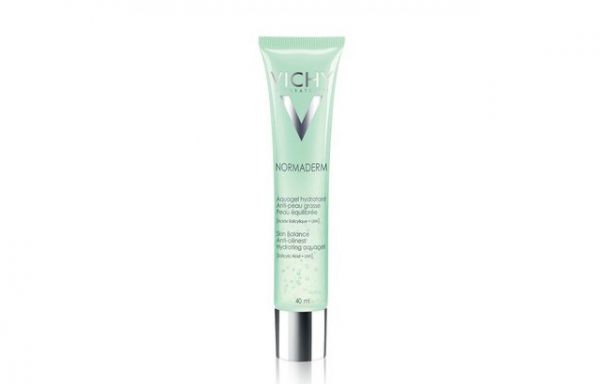 Now, there's the Vichy Normaderm Skin Balance gel that can help you with that.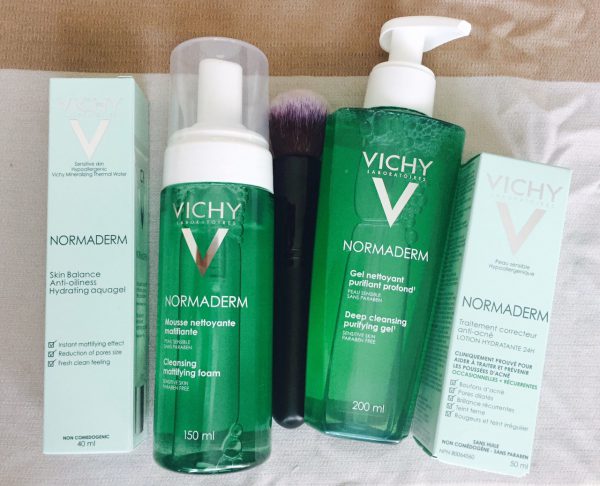 The entire Vichy Normaderm system is formulated with acne-prone skin in mind.  It cleans, moisturizes, mattifies, and treats skin so that it's less prone to break outs. The collection includes two different cleansers, a matte treatment moisturizer, a toner, mask, BB Creams,  and a matte gel, both of which hydrate skin but keep it mostly matte and prepped for sunscreen or makeup.
The products are great for using day or night, and I actually like using them at night time because that's when I really like using any kind of treatment products on my skin.  My skin is at rest and the active ingredients can do their job without anything else getting in the way.  The active ingredient in the treatment products is salicylic acid which helps prevent acne by cutting through the oil inside your pores.  That way it doesn't have a chance to clog pores and cause breakouts.
Skin Balance is a gel that's gives an instant matte look to your face, like your favourite primer, but without feeling slick or greasy because there are no silicones in it.  It feels fresh and matte and really preps your skin for foundation.  I use this in the morning after sunscreen and before foundation.  That way the sunscreen stays on my skin, and this just glides on top making everything nice and matte before I go in with my foundation – which also happens to be Vichy's Teint Ideal Fluid Foundation right now.
You can pick up Vichy Normaderm Skin Balance online or in drugstores. $19.95.