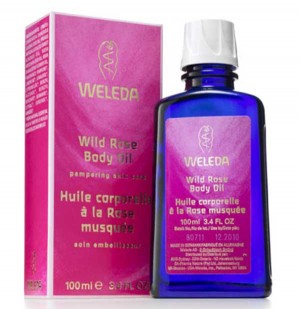 I have a thing for body oils – you know this – and I want them to smell good and be natural, if possible.
Luckily, Weleda, the company known for its natural products has body oils as part of their body care lineup.
The oils are made from seeds and nuts, and include plant extracts to nourish the body and the mind. Pomegranate is their newest oil and renews and firm the skin because of its high level of antioxidants! In fact, dermatological tests showed that the Weleda Pomegranate oil increased cell renewal by 50% in two weeks!
My favourite oil is the Wild Rose Body Oil just because it smells so good that it's the ultimate in pampering your skin.  This is definitely one of those oils that can add some scent to your skin, and I like that because I can skip the perfume and just wear this natural scent.
You can pick up the Body Oils from natural food stores and any other store that sells natural cosmetics. The Weleda Body Oils cost $28 US.