Have you guys watched the new Netflix docuseries Cooked? It's amazing, and it's changing the way that I think about my food.  Check out the trailer for it:
At the heart of the series is the message that we should all be cooking more, and if we did, we would be a lot healthier.  We should know where our food comes from, and how to prepare it ourselves.  It's common sense but it's also something that many of use forget in our day to day lives.  We're so busy on our phones that we don't make time to get all the groceries we need and really plan family meals – and not just dinner.  Wouldn't it be great if we all had home-cooked food from breakfast, to lunch, to dinner?
And so begins a different kind of detox for me.  One that eschews packaged food for food that I've made myself.  Now, I'm not perfect and lets be practical – there are only so many hours in a day and I'm working too.  But cooking more is something that I want to work towards.
As I learn more about food, I'm also interested in "superfoods".  These are foods that are nutrient rich and do good for the body.  To amp up my superfood intake, I've started adding Neal's Yard Remedies new Organic Berry Complex ($49) to my smoothies and breakfast bowls.  The Organic Berry Complex is a powder made up of ten superberries and ground up apple.  It's vegan and preservative-free and so tastes so good that you'll forget that it's good for you (I find that it just tastes like dried apple chips).
You can make a simple breakfast bowl like the one I have below.  I used some plain Greek yogurt and drizzled some honey on it.  Then I added some pumpkin seeds, sliced almonds, and put a scoop of the Organic Berry Complex on top.  The result was delicious.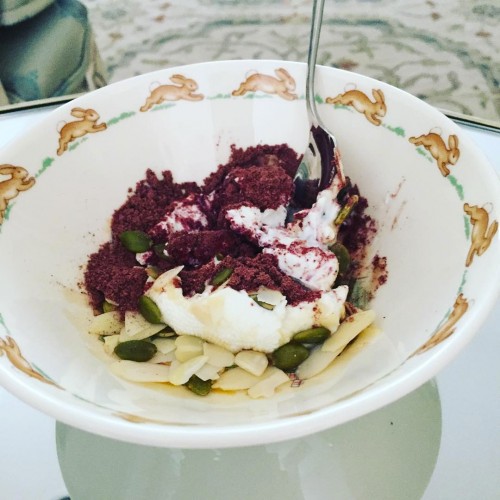 You can pick up the Organic Berry Complex online or at a Neal's Yard Remedies boutique.