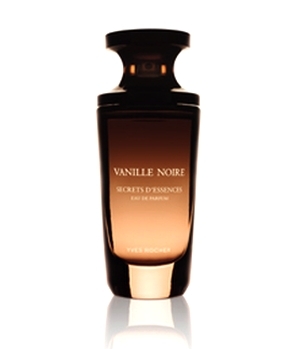 My obsession this fall and winter is rich dark scents.  It's true, that I've been in love with smokiness ever since I discovered the original scents in the Armani Prive line, but this season especially, there's a trend towards the unexpected and it's so great.  Think closed of cloisters in churches, an intriguing scent in a room you never noticed before, incense, wood, and so much more.  This season's scents are mysterious and that is perfume at its best.
Yves Rocher's newest is called Vanille Noire, and it is honestly the best scent they've ever come out with.
The perfumer played with 3 different types of vanilla to give depth to the scent, so really, this is anything but your typical baking vanilla.
Vanille Noire is a tad sweet right at the beginning – we are after all speaking of Vanilla – and that's due to the use of Tahitian Vanilla.  You then get woods which are due to the Ugandan vanilla and the woodsy spicy notes make up most of the drydown.
With so many dark scents this fall, Vanille Noire is different because it's a dark take on something sweet rather than just existing for its own sake.  It's perfect for someone who would usually wear Pink Sugar and wants to be more grown up, but it's also really nice for those who don't like sweet scents.
Vanille Noire isn't sweet – but it will remind you of something sweet because it's a vanilla scent and that in itself is an interesting olfactory journey to go on.
Vanille Noire is available at Yves Rocher stores.