Have you heard?  Starting today, there's no more shopping online at Murale.ca – instead, head over to BeautyBoutique.ca to get the high-end beauty products you would have bought at the Murale site.  It's no big deal, obviously.  Murale is also owned by Shoppers Drug Mart, but with only a few locations in each city, sometimes it's just the same to head over to a Shoppers Beauty Boutique and get what you need – and now we're doing that online too.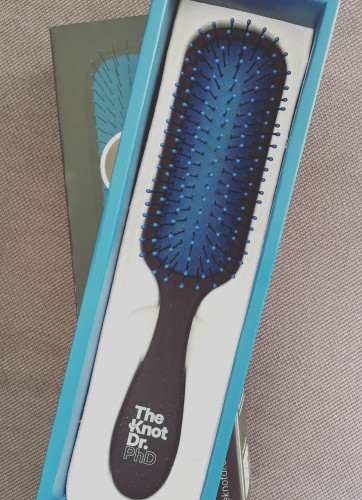 I only noticed because I was going to talk about my latest find from Murale: my new Knot Dr. hairbrush.
So backing up just a little bit, I have a little one who's 3.  And I do her hair every day, and lately that's been resulting in more tears than anything else.  Clever mom found a solution: cookies!  Yup, have her munching on cookies and there are no tears, no matter how many tangles.
… you can see the flaw in this plan.  Yes, it works, but man, did I feel guilty after doing it just once!  Junk food in the morning is no good, and really, I try to not even buy cookies at home because then you end up eating them.
So I was looking for a solution and I found The Knot Dr. at Murale.  I've already tried a Mason Pearson brush (didn't really detangle that well), combs (they work but aren't always gentle), and wide-toothed combs (they're not as smoothing as I would like).  Last year, I even got a Tangle Teezer (love it but then lost it, whoops).  The Knot Dr. looked promising.
I have the Knot Dr. PhD Hybrid Styler which is thinner than their regular model and has 135 bristles all of which help get tangles out.  I am loving this brush.  I use it on wet hair like I normally would, and it gets caught at the tangles, but then I slow down and carefully brush them out, and they come out so easily.  I don't like using a detangling product or a leave-in spray because I find that there can be a noticeable residue on very dark hair, but with this brush I don't even need it.  My daughter's hair becomes so smooth and is so easy to style… and I haven't had to resort to any cookies!
The Knot Dr. also makes a brush for kids, but it's smaller and made specifically for kids' hands – I don't need that at this point since I'm the one holding the brush!  I've been using it on myself too, and it's worth the $25 price tag.  It comes in a range of colours: cabernet, ebony, ivory, and sharkskin.  Check out the entire line at Murale stores.