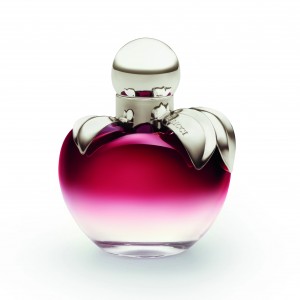 This fall, Nina Ricci introduces a new version of their 2006 scent Nina.  The new perfume is called Nina L'Elixer, and comes in a pretty red glass bottle with chrome-gold details.  The original Nina Ricci bottles were designed by Marc Lalique in the '50's and that explains the timeless appeal of the bottle. The original bottle was named "Fille de Eve" and paradoxically hinted at Eden – the bottle has since been modified for different Ricci creations but remains beautiful.
Olivier Cresp designed the scent, and it opens with a citrusy floral note, the middle notes is mostly apple, and the dry down is a musk and amber blend.  I found this a little difficult to wear because of the fruity notes in both the opening and the middle, but after a couple of hours, I absolutely loved the musky ambery blend.
Because of the apple and amber, this is definitely a fall fragrance and reminds you of orchards and baking at a lavish dinner party.  Think of it as an upscale apple pie rather than the one grandma used to make.  You can smell the apples, but also the heady floral and amber of the woman with lots of gold seated behind you.
The Eau de Parfum costs $52 for 30ml, $78 for 50ml, and $95 for 80ml.