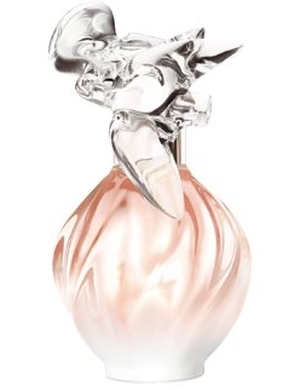 L'Air by Nina Ricci, released this past spring, is supposed to remind you of the classic scent L'Air du Temps by Nina Ricci.  L'Air du Temps was created in 1948 and is considered to be a classic.
Having not smelled the original, the the scent having been reformulated since then, I will only comment on L'Air.
The scent is definitely a floral.  It has notes of honeysuckle, jasmine, magnolia, and violet notes.  The base is woody with patchouli that's very green.  The scent through and through is fresh and easy to wear despite its floral and woody notes.  The freshness turns into an airy powdery scent that lasts and lasts on the skin.
L'Air is romantic, summery, and very "pretty" in an elegant way.  There's no candy sweetness in this, and it doesn't heat up on the skin to turn into something gourmand, so it's definitely for a mature wearer that likes the smell of a floral woodsy scent.
The scent has awesome staying power – it can most definitely last on the skin for a 12 hour day.