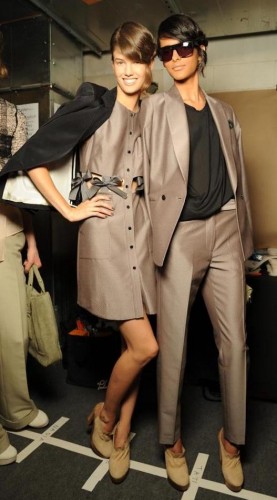 Nars did the look at the 3.1 Philip Lim show and the look was minimalist.  They used a lot of product to really get a flawless no makeup look, and that is to be expected!  The clothes really shone and the girls still look great.
Elegance is what they were aiming for – young elegance which is achieved by being as natural as possible.
Here's how they did it:
Face:
-NARSskin Brightening Serum
-NARS PRO-PRIME Pore Refining Primer (NEW for Spring 2011 – for now: try NARS PRO-PRIME Skin Smoothing Face Prep)
-NARS Sheer Glow Foundation
-NARS Duo Concealer
-NARS Madere Pure Matte Lipstick (NEW for Spring 2011 – for now: try Bangkok Pure Matte Lipstick) mixed with NARS Barbarella Lipstick for the cheeks.
Eyes:
-NARS Eyebrow Pencils (for sculpting and defining eyes)
-NARS Hollywood Land Soft Touch Shadow Pencil (NEW for Spring 2011 – for now: try Goddess Soft Touch Shadow Pencil)
-NARS Brumes Duo Eyeshadow
-NARS Blondie Single Eyeshadow
-NARS Bali Single Eyeshadow
-NARS Larger Than Life Lengthening Mascara
Lips:
-NARS Madere Pure Matte Lipstick (NEW for Spring 2011 – for now: try NARS Bangkok Pure Matte Lipstick)