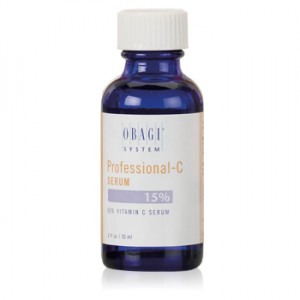 The latest addition to my beauty regimen is Obagi's Professional-C Serum 15%.  I really wanted to add a vitamin C serum to my skincare routine because it's good for keeping your skin even, and protecting it from free radical damage.
I've tried a few other serums (Skinceutical's to name one) and have found them to be sticky and foul-smelling.
The Obagi serum is totally different, of course, and it costs over $100 so it should be.
The serum is a super light oil that you can easily blend into your skin.  It sinks in almost instantly and smells mildly of citrus.  The smell isn't long lasting, and the serum isn't sticky at all, if you use just the right amount.
I follow with a sunscreen, and after using it for a few weeks, I've noticed a real difference in the clarify of my skin.  I also like that because it's a serum it's not tedious to add into my routine!
The serum comes in 5, 10, 15, or 20% formulations, and the more sensitive your skin, the milder the serum should be.  I have fairly oily skin and I'm finding that 15% is just perfect for me.
You can find Obagi products at dermatologists' offices only.  They are all over the counter, so all you have to do is ask for them!