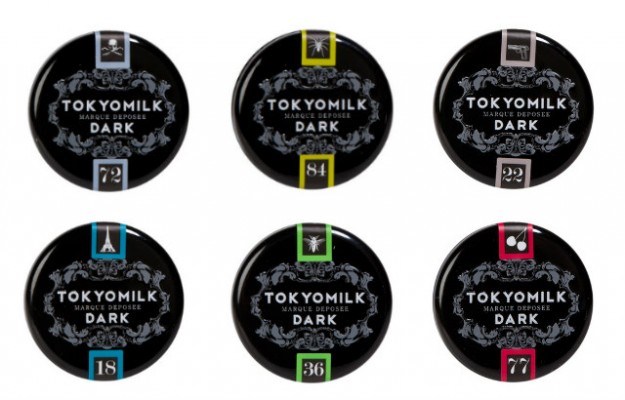 I have a bit of a lip balm problem. I keep them everywhere. Desk drawer, kitchen drawer, clutch, pockets, washroom vanity, bedside table… If you open a cabinet door in my house, the odds are good that a lip balm will tumble out towards you.
So even though I'm fully stocked, I stopped into C.O. Bigelow during a visit to New York City last week and couldn't help but be seduced by TokyoMilk Dark Lip Elixirs ($7). Packaged in a chic black tin, these darkly whimsical lip balms are available in inspired flavours including Coco Noir, Salted Caramel and Smoked Salt.
Cherry Bourbon – with flavour notes of cherry brandy, whiskey, aged wood and clove – smells like cherry with a boozy sort of warmth. I wanted to love Dead Sexy – with flavour notes of ebony wood, vanilla, citrus peel and rosewater – but I got more dead than sexy from the smell and couldn't quite imagine applying that to my lips. Absinthe – with flavour notes of anise, salt, citrus peel and herbs – is lightly fruity and fresh. Clove Cigarettes – with flavours notes of crushed clove, lavender rose, cinnamon and vanilla bean – is perfect for the winter season.
The balm is petroleum-based, which I usually avoid, and other ingredients include aloe leaf, bee balm and jasmine. The consistency is thick and the effect is more protective than nourishing but that can be useful in a cold weather lip balm.
I honestly want to collect all eight flavours. TokyoMilk Dark Lip Elixirs are so pretty and unusual that, instead of tucking them away in drawers with the rest of my lip balms, I would display them strategically throughout my house.
TokyoMilk is available online and at C.O. Bigelow.