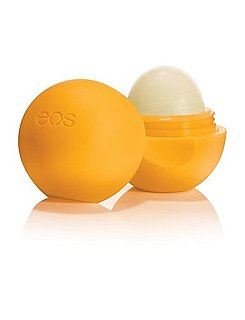 It's crazy dry and getting really cold, and my lips are really feeling it.  I've been trying every kind of lip balm that I can get my hands on the one I'm loving is EOS' Antibacterial Tangerine Lip Balm.
EOS says: "This 95% natural, petrolatum and paraben-free, daily-use lip balm provides anti-bacterial protection with the use of Phenol and offers medicated relief to help sooth dry lips and alleviate symptoms of cold sores. Its revolutionary smooth sphere packaging provides a direct, hygienic application and is packed with antioxidants, zinc, vitamins C and E, shea butter and jojoba oil to keep your lips healthy and germ-free this season!"
The balm is totally smooth and very easy to apply.  Because you don't need your fingers to apply it, the balm is going to stay antibacterial and will apply on your lips that way too!
The balm only costs $4 and I have it on me all the time because it feels good going on, tastes yummy, and is doing an amazing job hydrating my lips.
You can get the balm at your local drugstore, or on their website which also ships to Canada: http://evolutionofsmooth.com/index.html