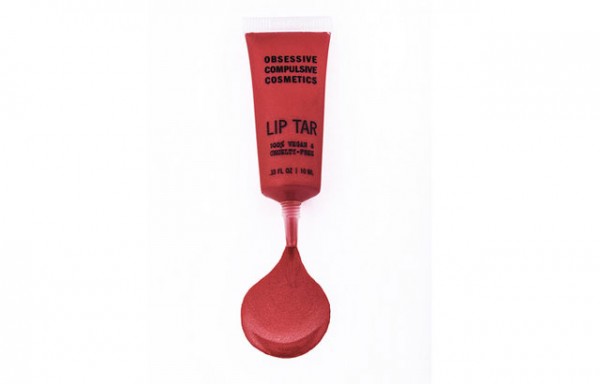 Obsessive Compulsive Cosmestics Lip Tars are a 100% vegan and cruelty free range of liquid lipsticks that have a bit of cult following due to their range of many beautiful, vivid colours.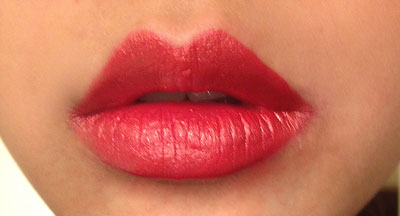 The shade I tried is Super NSFW, which is a gorgeous "gold-laced red". This picture actually doesn't quite do it justice, a tiny drop is pigmented enough to give you incredible coverage and colour.
The lip tar comes with a tiny brush to aid with application, as this is a product that requires precision and can definitely not be applied with your fingers or directly out of the tube. I put this on the back of my hand prior to application and it stained my skin slightly in the few minutes it was there, so it will definitely leave a bit of a stain on your lips.
Even though I loved the colour and pigmentation, I wasn't crazy about the packaging and application of the product. I used the OCC Lip Tar before going out for the night and reapplied using my trusty YSL Rouge Pur Glossy Stain in 9 Rouge Laque. The traditional lip gloss style tube with the applicator in the lid was simply easier than trying to reapply with the squeeze tube and tiny brush in a dimly lit restroom.
I found that the OCC Lip Tar had a tendency to settle into lines and was a teensy bit more drying that other gloss stains I've tried. Upon closer inspection, I noticed that this product actually has peppermint oil in the formula, which can be drying though it does give the product a nice, minty scent. That said, it's still significantly less drying than regular lipstick formulas. I noticed after I'd used it a few times that you can purchase a Lip Tar Primer to go with this, which may address some of these issues.
Overall, a really solid, wonderful product. It's for you if you love very richly pigmented lipsticks and glosses.
$18 at Sephora.